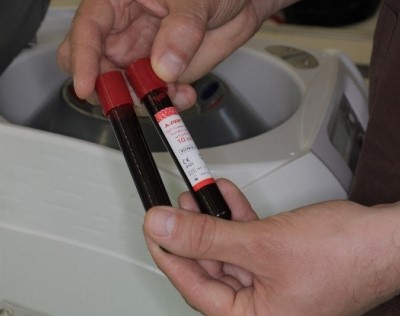 Information on PRF technology
The PRF (Platelet Rich Fibrin) method was developed in 2001 by Dr Joseph Choukroun (surgeon, anesthetist, pain expert). The PRF technique is one of the most e!cient ways of promoting rapid healing using the patient's own white blood cells, growth factors and cytokines. During
the procedure (PRF process), blood is drawn from the patient and centrifuged with a low-speed PRF centrifuge.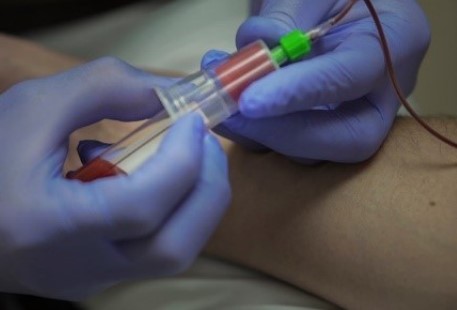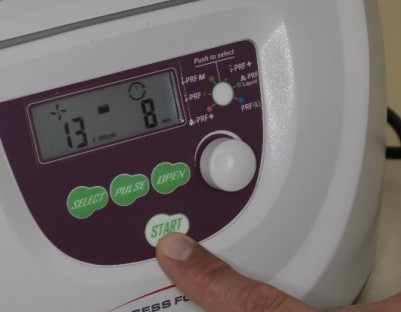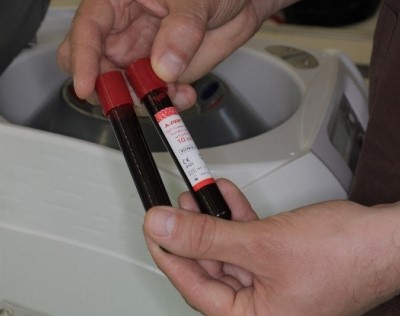 The result of the natural coagulation process is a fibrin clot rich in white blood cells and growth factors, which acts as an extracellular matrix. The
extracellular matrix helps the formation of new blood vessels and a new vascular system, keeps the wound moist and continuously but slowly
releases the growth factors and cytokines required for healing.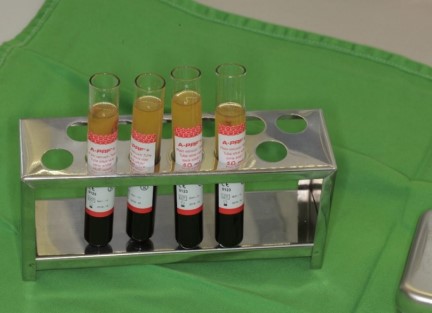 Centrifuged blood. White blood cells are visible in the upper part of the vial.
In the course of his research, Dr Choukroun and his team developed the A-PRF (Advanced PRF) and I-PRF (Injectable PRF) protocols. Using A-PRF, we can
a can make a "sheet-like" membrane (gel-like protective membrane) to "envelop" the wound, a dense gelatinous fibrin clot. I-PRF is
a thinner liquid fibrin that can be drawn into the syringe so we can "water" the surgical area or bone. I-PRF has a large number of mesenchymal stem cells.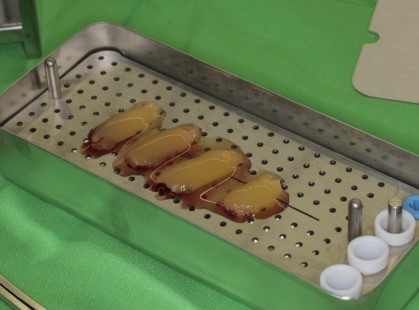 Gel-type fibrin clots from which the membrane is prepared (A-PRF)
The two protocols can be used separately, but can also be combined in a major surgical procedure such as bone filling
or sinus lift. In this case, A-PRF is used as a membrane to protect the wound, and I-PRF is mixed with the bone filling material. By mixing the
fibrin clot and bone filler, the result is sticky bone, which is very easy to use and dose, and can be "glued" to the bone filler area, making the surgeon's work easier.
which facilitates the surgeon's work.


Advantages of use:

With an effect of analgesic, pain is almost completely eliminated after the first day.

After surgery, no antibiotics are required, as the fibrin clot is rich in white blood cells that reduce the risk of infection.

The fibrin clot keeps the wound moist and promotes angiogenesis, which is very important for proper healing and bone formation.

The procedure can also be used in patients taking anticoagulants, but in this case the fibrin clot develops a little more slowly, a few minutes later.

When is the PRF technique recommended?


For oral surgery, e.g. tooth extraction, implantation, sinus lift, bone filling, apical resection, etc. For periodontal treatment, e.g. periodontal stain removal, open or closed curettage, connective tissue graft removal, gingival surgery, tunnel technique, etc.
Sinus fillings
Periodontology
Healing
Bone grafts
Implantology
Extractions
Our available conferences
in the dental industry
BIOMATÉRIAUX ET RÉGÉNÉRATION OSSEUSE PRÉVISIBLE
Dr Simon Lafrenière, Dre Anne-Sophie Villeneuve
Description
Availabilities:

1. Start date: 2/22/24, 2:00 AM | End date: 2/24/24, 10:00 AM